Words by Georgina Hannekum | Images Eberhard Grossgasteiger @ Plexels
Building brand with a start-up mindset
Adopting a startup perspective can bring fresh ideas and innovation to established brands, helping them stay competitive and navigate tough times.
Startups are known for their agility, risk-taking, and innovative thinking, and established businesses can benefit from incorporating some of these practices, especially when it comes to brand and marketing. Established businesses can benefit from partnering with startups or investing in them to provide access to new ideas and technologies, as well as the energy and drive of the startup community.
In this marketing for startups guide, we'll discuss some of the tactics establish brands can use, to stay relevant and competitive in an ever-changing business landscape.


Start-ups that successfully scale up can provide great insights for brands
According to a joint study by the Kauffman Foundation and Inc., around two-thirds of the fastest-growing start-ups fail. What they found was startling: about two-thirds of the companies that made the list had shrunk in size, gone out of business, or been sold. Why? Because they failed to make it through the fourth and final stage of enterprise maturity, where a company finally becomes self-sustaining.
In stage one, startups find customers for their idea. In stage two, they establish processes for reliably delivering their product and for finding new customers. In stage three, new challenges appear. To become financially viable, the enterprise must rely upon even more sophisticated processes, and it can no longer risk having the company's fortunes depend upon the special talents of any one person. Even having successfully grown to this point, most enterprises are then unable to solve the central challenge of stage four: ongoing process and product innovation for new customers.
Those that succeed tend to pivot their initial success from performance marketing to brand marketing when growth stalls. This requires long-term planning to create future demand; broad-reach, emotional brand-building advertising; strong brand assets; potentially an evolved brand positioning; and adding new media channels to the mix.
For brands that focus on creative quality, generating awareness, and leveraging word of mouth, lower marketing budgets won't hamper growth. Atlassian is a great example of how this has worked: they invested heavily in their core products and hoped that it would sell itself. This worked incredibly well in first few years, and growth came organically.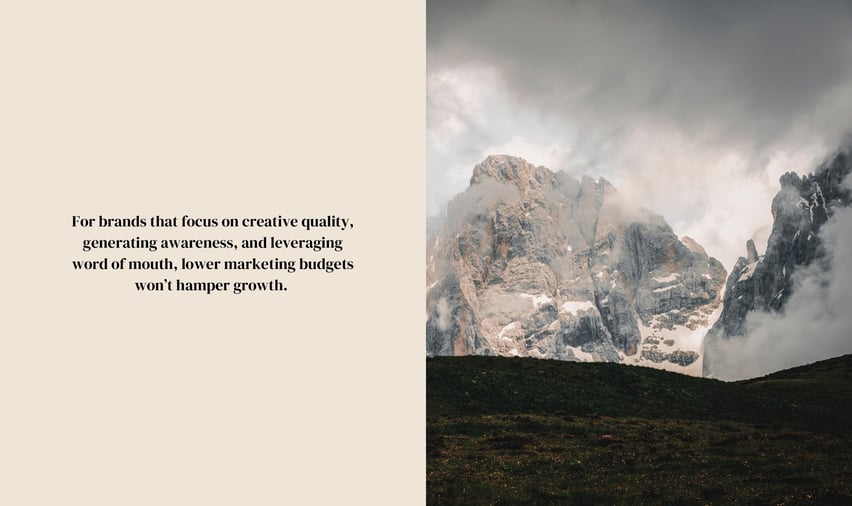 Brands can learn from start-ups how to get more out of data for transformational growth
Established companies have significant structural advantages over new entrants, the biggest of which is data and the resources to take advantage of it. They also have deep, often long-lasting relationships with their customers and access to the data required to optimise propositions to current and new buyers.
But most established brands are not taking advantage of these opportunities. In a survey of B2B companies, only 25% of B2B companies use data every week to understand customer needs, according to a study by management consulting firm McKinsey.
McKinsey suggests there are three ways that traditional B2B players can better compete with start-ups:
Having the vision to redefine the industry in a way that addresses customer needs first
Consider data at the core of the companies assets
Ensure that C-level executives are committed to data as a strategic goal.
Integrated data platforms can be a challenge for traditional B2B companies with data distributed across multiple teams. However, cloud-based 'no code' software can solve these business challenges, enabling employees to collaborate by using data across the organisation.