Words by Georgina Hannekum | Images Plexels
Sponsorship effectiveness: What we know
Brand sponsorship can create awareness and build brand equity. We look at the best practice, evidence and insights driving sponsorship effectiveness.
The primary objectives of sponsorship are to create awareness and build brand equity. In today's media landscape marketers can leverage multiple touchpoints to activate a sponsorship. Natural synergies between brands can boost the impact of sponsorship, and the effectiveness of this can be enhanced by emotive storytelling and employee engagement.
Sports settings are natural environments to promote healthy behaviours and in Australia, sport is synonymous with sponsorship. Nielsen Sports, a global leader in sponsorship analytics and fan intelligence, has highlighted through the recent Nielsen 2022 Sponsorship Outlook report, it shows sponsorship spend increased in 2022, rising to 21.3% of total marketing budget, compared to 19% last year, reaffirming a positive trend towards the importance of sponsorship in marketing.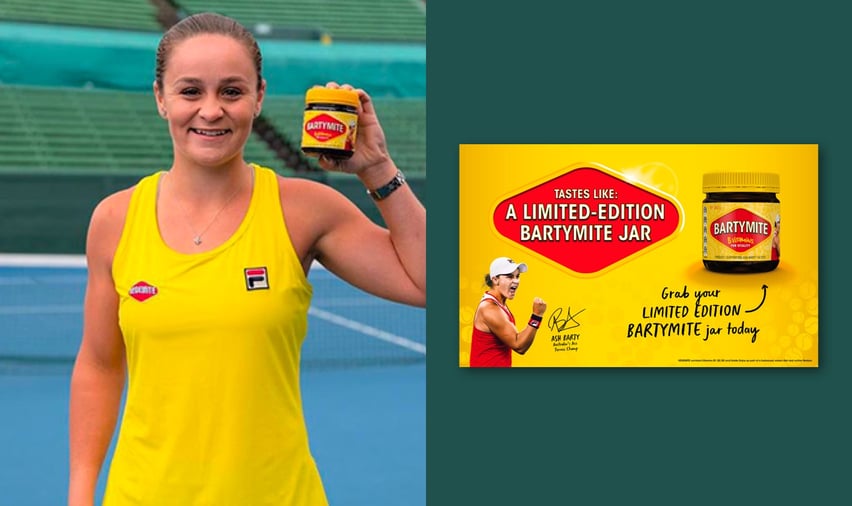 Limited-edition BARTYMITE jar with Australian tennis star Ash Barty and Vegemite. Image credit: @ashbarty/Instagram.



Sponsorship investment typically divides into two areas
Sponsorship rights are the fee that the advertising brand pays for the sports team, event or media it is sponsoring. Activation fees include the promotional costs of the sponsorship such as PR, in-store collateral or social media outreach.
Traditionally, brands have paid for sponsorships via a fixed package of assets focused on upper-funnel brand metrics. However, in the wake of the pandemic, many Australian brands are scrutinising investments more closely, and expect opportunities for impact throughout the purchase funnel and measures of effectiveness compared to other channels.
This is giving rise to sponsorship models where all parties are motivated to generate success for the sponsor, by linking the rights fee paid to a set of business outcomes delivered through the sponsorship. Different models can include an incentive-based bonus, shared revenue deals or a cost-per-acquisition bonus.


What should healthcare brands consider when looking at sponsorships?
Brands must build a robust sponsorship evaluation framework before they can accurately access any investment.
Assessing the value of your sponsorship
New models can be used to demonstrate how sponsorships deliver financial value beyond their equivalent media value.
British financial services company Barclays has a history of high-profile and successful sponsorships, including 15 years as title sponsor of the top division of English football, the Premier League.
According to WARC, the new model for evaluating its sponsorship investments across different geographies and sports recently enabled Barclays to make more sophisticated investment decisions. The model encompasses six key areas:
How the sponsorship brings the brand purpose to life

How it creates and converts commercial opportunities
How it showcases products and services
How it deepens customer relationships
How it inspires colleagues
How it impacts society.
In terms of application, for example, Barclays wanted to assess the impact of reducing investment in the Premier League from title sponsor to financial services partner. Modelling revealed the precise impact of different levels of sponsorship out of 100:
Title partner: 74/100

Financial Services partner: 61/100
Exit: 14/10.
As a result, Barclays concluded that it could afford the shift to a financial services partner but could not justify a total exit from football sponsorship. The brand has funnelled more money into the growing space of women's football, where it says it can provide greater impact both for its business and for an important and traditionally underfunded audience.
Whilst there can be problems in measuring effectiveness (often because sponsorships are often managed in silos and it can be difficult to compare to other media touchpoints), this can be overcome by integrating sponsorship measurement into existing measurement approaches.


Think of sponsorship as your communications platform
Sponsorship can help brands reach highly engaged audiences but, without strong activation, it is little more than a media buy.
To maximise ROI, brands should view sponsorship as a brand communications platform that can be brought to life across a broad range of touchpoints with creativity and strong multichannel planning. Brands should develop insights about their audiences and their relationship with the brand they are sponsoring that can be married to an effective and authentic role for the brand.
There are ten ways in which brands can use sports sponsorship effectively, to be considered as part of your broader brand strategy:
Brand exposure and awareness

Positive brand benefit

Access to assets for content creation

Newsworthiness

Product and promotions

Inspiring and galvanising internal audiences

Direct sales and client relationship opportunities through hospitality

Rewarding loyalty, incentivising acquisition

Business capability

Community and cause-related benefits.